Autism Academy for Software Quality Assurance (AASQA)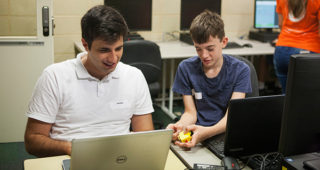 The AASQA is our flagship outreach program aimed at helping people on the autism spectrum to leverage their potential in programing, robotics, digital arts and more.
News and events
Our Open Day will provide information on research and programs that support people with autism by researchers from Curtin University and Telethon Kids Institute. All are welcome.

Watch our PhD student Mortaza Rezae represent Australia at the Falling Walls Lab in Berlin for his project on empowering individuals on the autism spectrum to travel independently through public transportation.

Many adults on the Autism Spectrum can have difficulty recognising how other people are feeling, which can make interactions with others difficult.
Get involved
We welcome volunteers, students of any discipline, and researchers who are interested in autism to get involved in CARG.